Live Nation Presents In This Moment & Ice Nine Kills: Kiss Of Death Tour
Get ready for an electrifying night of rock music! In This Moment and Ice Nine Kills, along with special guests Avatar and New Years Day, are bringing the heat to the Cross Insurance Center on Saturday, November 25th, as part of the Kiss Of Death Tour!
---
Venue presale begins on Thursday, July 20th, at 10:00 AM and ends at 10:00 PM (same day) [ONLINE ONLY]. Tickets go on sale to the general public on Friday, July 21st, at 10:00 AM. Tickets for this and other shows at the Cross Insurance Center can be purchased online at ticketmaster.com or at the Maine Credit Unions Box Office inside the Cross Insurance Center.
Parking Lot Map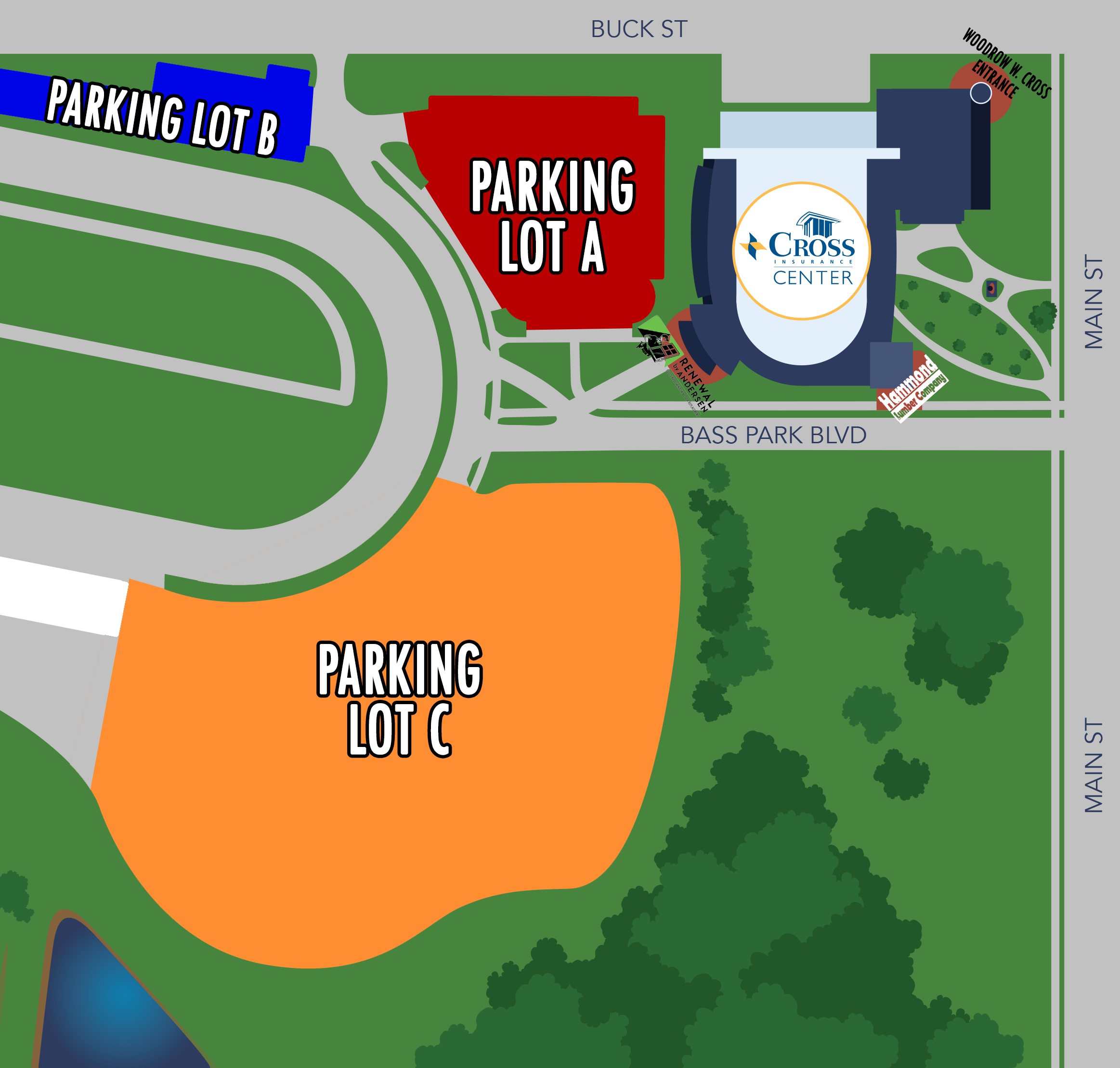 PRICING:
PL1: $69.50 (GA Floor – Standing Room Only)
PL2: $69.50
PL3: $59.50
PL4: $49.50
PL5: $39.50
*Additional fees applicable depending on point of ticket purchase.

SEATING CHART: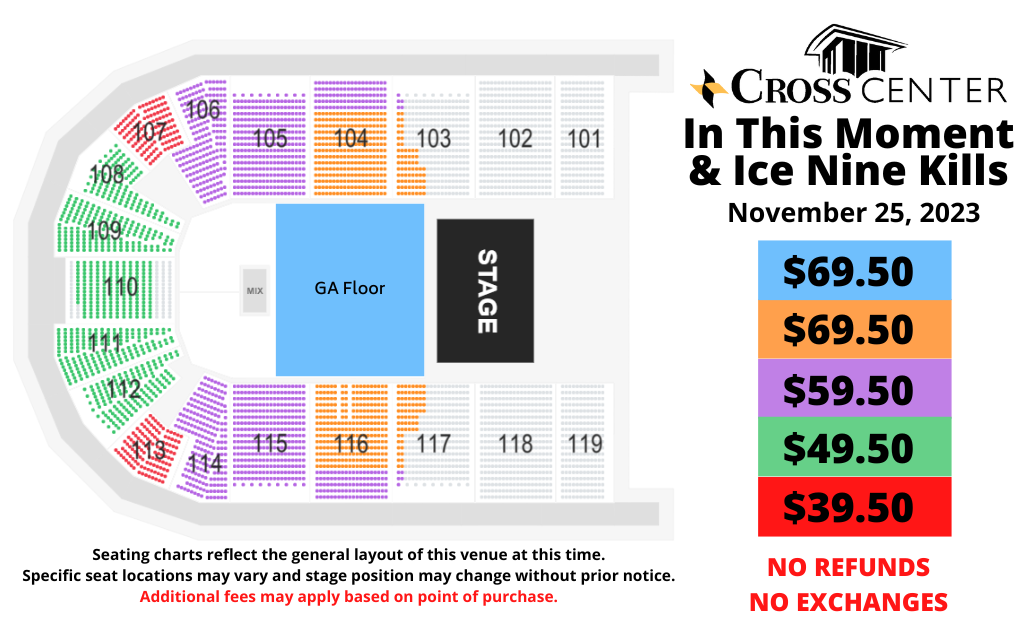 ABOUT IN THIS MOMENT
Throughout history, art rejoices and revels in the wisdom of women. Within a deck of tarot cards, the High Priestess serves as the guardian of the unconscious. In Greek mythology, the old oracles celebrate the Mother Goddess. William Shakespeare posited portentous prescience in the form of MacBeth's "Three Witches." On their sixth full-length album Ritual, In This Moment—Maria Brink [vocals, piano], Chris Howorth [lead guitar], Travis Johnson [bass], Randy Weitzel [rhythm guitar], and Kent Diimel [drums]—unearth a furious and focused feminine fire from a cauldron of jagged heavy metal, hypnotic alternative, and smoky voodoo blues. It's an evolution. It's a statement. It's In This Moment 2017… "It's like we're going into the next realm," asserts Maria. "I had a conviction of feeling empowered in my life and with myself. I always write from a personal place, and I needed to share that sense of strength. I've never been afraid to hold back. Sometimes, I can be very suggestive. However, I wanted to show our fans that this is the most powerful side of myself and it's without overt sexuality. It's that deeper serious fire inside of my heart." "What Maria is saying comes from deep inside," Chris affirms. "This time, we had a bunch of ideas started before we hit the studio. There was a really clear direction. It's different." The group spent two years supporting their biggest album yet 2014's Black Widow. Upon release, it seized their highest position to date on the Billboard Top 200, bowing at #8. Simultaneously, it clinched #3 on the Hard Rock Albums chart and spawned a series of hits such as "Sick Like Me," "Big Bad Wolf," and "Sex Metal Barbie"—all cracking 8 million Spotify streams each and topping Rock Radio. Meanwhile, the band's signature smash "Whore" crossed the 20-million mark. Furthermore, the title track off In This Moment's 2012 album, Blood, has been certified gold by the RIAA. A remarkable accomplishment, the companion music video for "Blood" has been viewed over 27 million times. Between headline tours, they incinerated stages everywhere from Rock On The Range to Download Festival. In March 2016, Maria and Chris commenced writing for what would become the new record with longtime collaborator and multiple GRAMMY® Award-nominated producer Kevin Churko [Five Finger Death Punch, Ozzy Osbourne] at his Las Vegas compound.
ABOUT ICE NINE KILLS
In a sea of subculture sound-alikes and would-be social media stars, ICE NINE KILLS stand tall as passionate artistic trailblazers. For over a decade, ICE NINE KILLS has built a thrilling new world for their band and their growing legion of fans. "INK" summons the most captivating elements of metal, punk and melody with theatricality, cinematic obsession, and literary fascination, creating a thrilling vision.
The Boston-based trio of Spencer Charnas, Justin DeBlieck, and Justin Morrow, (together with their onstage cohorts), conjured INK from the ground up, with the artistic confidence and perseverance of their favorite DIY punks and filmmakers.
After a decade of studio adventures and live showmanship, ICE NINE KILLS joins the ranks of likeminded hard rock acts like Avenged Sevenfold, Slipknot, and Marilyn Manson, in terms of the combination of music and lifestyle and cult-band reverence.
Songs like "Communion of the Cursed," "Me, Myself & Hyde," "Hell in the Hallways," "The Fastest Way to a Girl's Heart is Through Her Ribcage," and "Bloodbath & Beyond" have amassed more than 30 million views on YouTube alone, building a story with sales, streams, and downloads that's evident by the massive sing-a-longs at festivals, on Vans Warped Tour, and when the band headlines theaters and clubs.
Following a fourth album that debuted in the Top 5 of Billboard's Hard Rock Albums chart, and tours with bands like Motionless In White and Every Time I Die, ICE NINE KILLS spent much of 2018 in the studio with producer Drew Fulk (Bullet For My Valentine, As I Lay Dying) crafting their most diverse and impressive offering.
The Silver Scream, the fifth record from ICE NINE KILLS, is a definitive achievement. A conceptually driven post-metalcore masterpiece with the catchiness and spirit of pop-punk and the fist-pumping anthem power of arena rock, The Silver Scream is 13 songs of horror movie inspired madness. Just as their previous album, Every Trick in the Book, drew from classic literary works (including Animal Farm, Dracula, and Romeo and Juliet), each song on The Silver Scream is a tribute to a different iconic cinema classic, the types of movies that inspire the same sort of fandom as music.
Cross Insurance Center COVID-19 Policies
Due to REDUCED levels (Medium or Low) of COVID-19 community transmission in Penobscot County, face coverings are welcome, but NO LONGER REQUIRED while inside the Cross Insurance Center. At this time, we are not requiring proof of vaccination or proof of a negative COVID test. We reserve the right to do Temperature Checks and/or not grant access to any guest(s) that are demonstrating COVID-like symptoms.
For updates on this, please continue to check our website, our social media channels, or call 207-561-8300. Thank you for your understanding & cooperation. Please get vaccinated and let's keep Mainers safe!