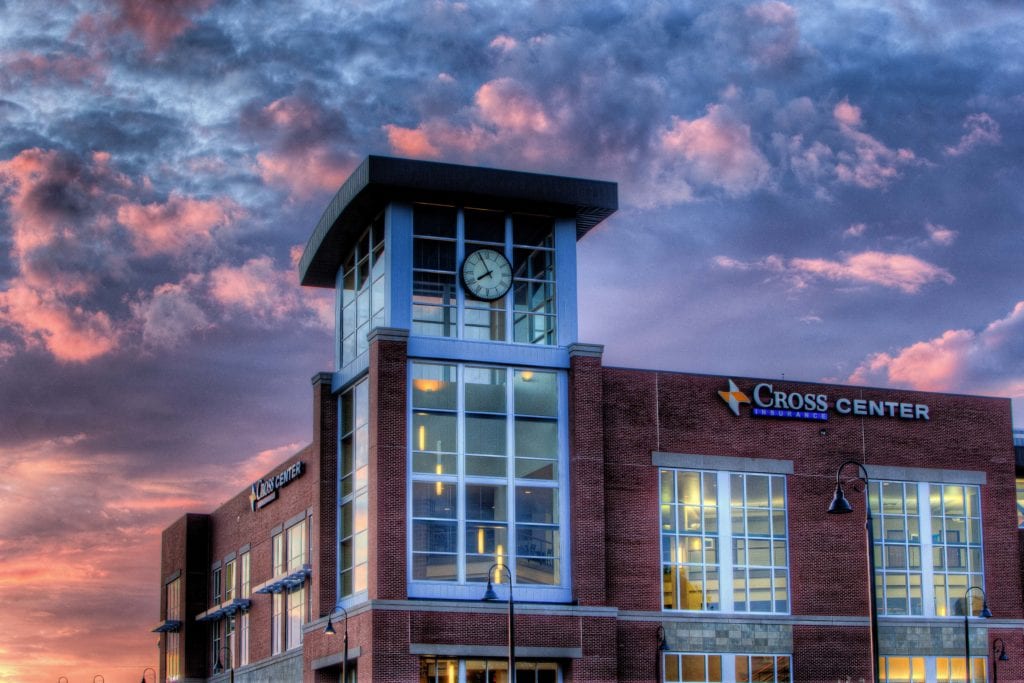 The Cross Insurance Center is a multi-purpose convention center and arena that can host up to 2,000 convention guests with an 8,500 seat arena and with room for 260 exhibit booths, offering you first class hospitality and providing an unparalleled, original New England experience.
The Cross Insurance Center is one of the most adaptable and accessible entertainment venues in New England. Visiting the Cross Center for an event will not be an inconvenience. Let our professional, friendly staff assist you with any special needs to ensure that your event experience is enjoyable and memorable. The Cross Insurance Center was designed and built to accommodate our guests with special needs by complying with all ADA specifications. Below you will find information and services that we offer to our guests with disabilities and limitations. We encourage all guests who have concerns, comments, or who need assistance to talk to any member of the Cross Insurance Center staff. If any guests have further questions or have suggestions on how to make your experience more enjoyable please call us at 207.561.8300.
For special equipment and/or services, fill out our online Guest Services Equipment Request Form
Parking
We offer accessible parking in all parking areas located near the facility. The parking lot, located adjacent to the Renewal by Andersen Entrance of the facility will be the primary parking place for guests with disabilities. All guests who wish to park in the reserved spaces must have a state issued handicapped window pass, sticker, or license plate. Vehicles that do not have these credentials will be allowed to drop guests off at the Hammond Lumber Company Entrance [formerly Southeast Entrance] on Bass Park Blvd. and then proceed to the other parking lots or Hollywood Casino parking garage. There are also two other options for parking which accommodate parking for guests with disabilities – the Raceway Lot located up Bass Park Blvd. on the left and the Buck St. Lot located along the racetrack through the Buck St. entrance.
For certain events, such as concerts, Lot A (attached to Renewal by Andersen Entrance) and the Lot B (parallel to Buck St) will be paid parking areas that will allow for free accessible parking up to the total amount of available designated ADA spaces. Once these spaces are full, general parking in these lots will be available as capacity allows for the prevailing charge.
Ticketing
Cross Insurance Center Box office located at 515 Main St, by visiting Ticketmaster.com. On event days, tickets can be purchased at the Southwest Box Office. To ensure that we have ample seating for all guests who require assistance, we have developed these guidelines.
Accessible seating will be set aside for all events.
Tickets are available on a first come first served basis to all guests with disabilities.
It is our intention to have seats for guests in all price levels.
Those in need of Accessible Seating are allowed to purchase the same number of tickets as those who seek to purchase other types of seats and if possible based on the physical configuration in the venue may purchase up to three (3) companion seats per accessible seat, though this is not required.
If an event is sold out, all remaining accessible seats will be released for sale to the public 72 hours after the event is sold out or on the day of the event.
Tickets for accessible seats must be sold: during the same hours, through the same methods of purchase and during the same stages of sales (pre-sales, promotions, general sales, etc.)
When a group rate is offered for a specific event, if the group includes one or more individuals who need accessible seating, the entire group should be seated together in an area that includes accessible seats if possible.
Guests who arrive to the Cross Insurance Center and require accessible seating but are without accessible seating tickets will be accommodated based on seating availability at the Box Office.
Seating
We have ample seating located throughout the arena for all guests with disabilities. ADA seating is available on the main concourse located in sections; 103, 105, 108, 112, 115, and 117; on the club level in sections 210, 203B, and 217A and in all suites. The amount of ADA seating will vary from event to event, based on numerous configurations of the arena.
Facility
Entrances
All arena entrances are ADA accessible.
Elevators
There are 2 ADA accessible elevators located in the arena. One is located at the Renewal by Andersen Entrance and the other elevator is located at the Hammond Lumber Company Entrance [formerly Southeast Entrance]. The facilities elevators will service all levels of the arena.
Restrooms
All restrooms located throughout the arena will have ADA accessible sinks and stalls. All female restrooms include changing tables as well.
Water Fountains
Water fountains located inside the arena are accessible to all guests. These are located outside sections 103 and 117 on the main concourse level.
Assistive Listening Devices
Assistive listening devices will be available to our guests. The assistive listening device broadcasts the arena's sound system on an FM frequency. All guests will be required to leave a valid form of identification in order to use the equipment and fill out a Guest Services Equipment Sheet.
Braille Signage
Braille Signage will be displayed on all accessible signs throughout the building.
Wheelchairs
Our Guest Services Booth will have a limited number of wheelchairs for guests who need assistance arriving to their seats. By filling out the Guest Services Equipment Sheet, we can have a wheelchair ready to provide for you.
Sign Language Interpreter
The Cross Insurance Center offers interpreters for all guests requiring special assistance. However, we will need at least a two-week notification for our guest to utilize this feature. Please fill out our Guest Services Equipment Sheet for an interpreter.
Ticket Windows
Wheelchair accessible windows are located at both of our box offices located at the Renewal by Andersen and Hammond Lumber Company Entrances.
Emergencies
In the event of an emergency or fire, our event staff is trained to assist any person in need. In the event of a fire, the elevators and escalator will shut down and only firefighters and emergency rescue personnel will be allowed to use them. Please see a member of the staff for safe evacuation.
Service Animals
Any guide dog or other service animal that is assisting a guest is more than welcome at all events with proper identification.
Important Phone Numbers
Administrative Offices/Main Line: 207.561.8300
Main Box Office: 207.561.8334