For all upcoming/future Cross Insurance Events, both in the Arena and in the Convention Center, we will strongly encourage all guests to wear facemasks at all times, while inside the Cross Insurance Center. At this time, we are not requiring proof of vaccination or proof of a negative COVID test. We reserve the right to do Temperature Checks and/or not grant access to any guest(s) that are demonstrating COVID like symptoms.
For updates on this, please continue to check our website, our social media channels, or call 207-561-8300. Thank you for your understanding & cooperation. Please get vaccinated and let's keep Mainers safe!
Door Time:
General Doors will open at 6:00pm
*Door times subject to change without notice
Lot A:
Lot B:
Lot C:
$20.00 – can be purchased in advance or day of as available (cash only day of)
$20.00 – can be purchased in advance or day of as available (cash only day of)
$10.00 – can be purchased in advance or day of as available (cash only day of)
Parking Lot Map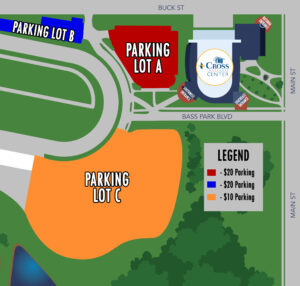 Jeff Dunham, internationally acclaimed comedian and ventriloquist, brings his SERIOUSLY!? tour to Bangor's Cross Insurance Center on January 12, 2022. Join Jeff Dunham and his delightfully irreverent cohorts, Peanut, Walter, Jose Jalapeno, Bubba J and Achmed the Dead Terrorist LIVE for a night of fun and laughter.
The one and only Cirque Dreams Holidaze has been hailed by the New York Daily News as "A delicious confection of charm, sparkle and talent by the sleigh load. "Set in a multi-million-dollar wonderland of elaborate scenes and dozens of original holiday production numbers, audiences nationwide will celebrate the most wonderful time of the year as they experience over 300 spectacular costumes and 20 of the world's most astonishing acts.
Cross Insurance Center Cyber Club Pre-Sale begins on Friday, October 1st at 10am and runs until Sunday, October 3rd at 11:59pm.
General Public On-Sale begins on Monday, October 4th at 10am.
Tickets for this and other shows at the Cross Insurance Center can be purchased online at ticketmaster.com or by phone at 207.561.8333. At this time, the Maine Credit Unions Box Office inside the Cross Insurance Center is closed, aside from the General Public Onsale for Jeff Dunham on October 4th from 10am-5pm.
PRICING:
PRICE LEVEL 1 – $51.50
*Additional fees applicable depending on point of ticket purchase.
HOW TO PURCHASE TICKETS:
*Online at Ticketmaster.com/cicbangor
*By Phone at 207.561.8333
*Maine Credit Unions Box Office at venue hours TBD
*Additional fees applicable depending on point of ticket purchase.

SEATING CHART: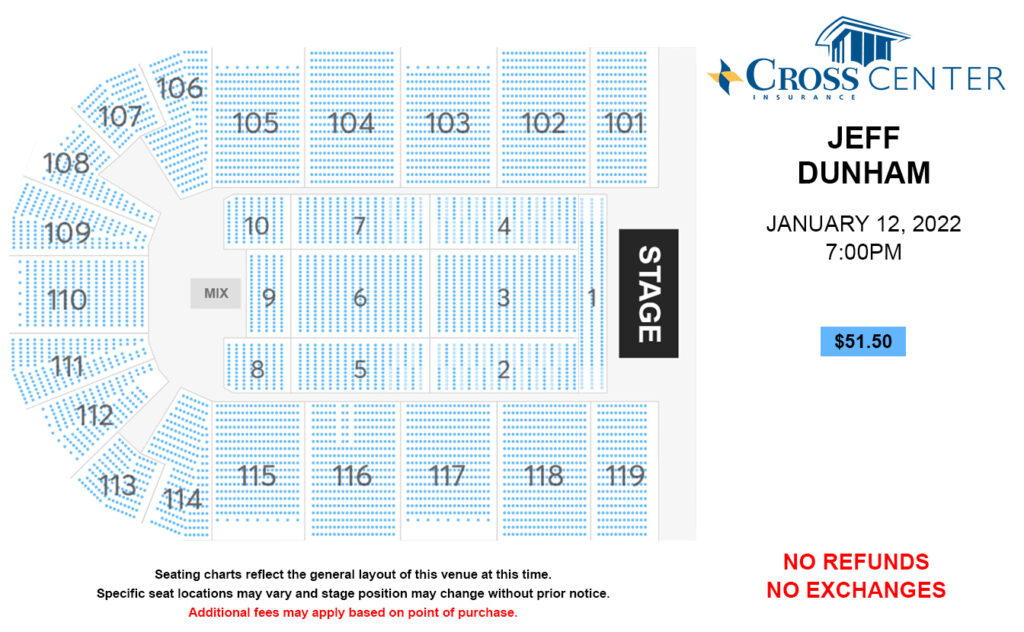 ABOUT JEFF DUNHAM
For more than thirteen years, Jeff Dunham and his delightfully irreverent cohorts, Peanut, Walter, José Jalapeño, Bubba J. and Achmed the Dead Terrorist, have filled arenas across the U.S. and the world with their multiple blockbuster tours. And now, after taking the year off that nobody wanted, the comedian/ventriloquist and the little guys in his suitcase are restarting their much-claimed international tour, "JEFF DUNHAM: SERIOUSLY!?."  They'll be playing multiple rescheduled dates crisscrossing North America and Canada, then will soon be adding approximately 50 more cites to include more of North America, plus Europe and the U.K.  In addition to his usual cast of irreverent accomplices, "SERIOUSLY!?" includes the newest member of the troupe, "Url", the grandson of Walter who lives online in his parent's basement and knows not much more than what's on his smart phone.  Tickets for all shows can be found at http://www.jeffdunham.com.
Additionally, during the pandemic Dunham released "Jeff Dunham's Completely Unrehearsed Last Minute Pandemic Holiday Special," his 1st of three new standup specials under a new deal with Viacom and Comedy Central, and this makes the artist's tenth in his impressive string of record-breaking stand up television events.  The airing was Comedy Central's most watched special in five years, which was also a Dunham special. And further it was highest rated standup special in 18-49 since his 2014 "All Over the Map" special.  In other words, Dunham bested himself three times running.
Dunham has built an entertainment empire over years of non-stop touring and performance innovation. With over 11 million followers on Facebook and over 3 million YouTube subscribers, amassing well over a billion and a half views, the comedian/ventriloquist has carved out his own unique space in the comedy world. His accomplishments have led to record-breaking viewership with his standup specials on NBC, Netflix and Comedy Central. His astonishing arena-packing power has put him on par with major music acts such as Luke Bryan and Metallica.
A Texas native, after graduating from Baylor University, Dunham moved to Los Angeles and soon became a sensation on the national comedy club circuit. He later conquered the comedy world by becoming a multi-platinum selling DVD artist and achieving record-breaking ratings on both cable and network TV. His 2015 stand-up special, "Unhinged in Hollywood," debuted on NBC Primetime and ranked as the time period's top non-sports program on the Big 4 in every key measure. The special was re-broadcast on Comedy Central and was the top rated special of the year for the entire network. Dunham's previous stand-up specials, "Arguing with Myself," "Spark of Insanity," "A Very Special Christmas," "Controlled Chaos," "Minding the Monsters," and "All Over the Map," have garnered record-breaking numbers by either claiming "most watched" or "highest rated" on Comedy Central.
Dunham has made many cameo appearances across television and film, from the Emmy Award-winning comedy series "30 Rock," "Angie Tribeca," and "Dinner for Schmucks," starring Steve Carrell and Paul Rudd.
ACHMED
When Dunham introduced this boggle-eyed skeleton, he set the world on fire… actually, he set himself on fire, then he accidentally blew himself up, and within no time he became the world's only beloved dead terrorist.
PEANUT
Peanut is the sidekick of comedian / ventriloquist Jeff Dunham. He's frenzied and fast, naughty but lovable, manic and unendingly energetic. Self-described as a comic genius, Peanut is sure to make everyone laugh. To children, he's cute and funny. To teenagers, he's cool, hip, and irreverent. To adults, he's offthe- wall and wonderfully goofy, and they respect him, mainly because he has NO respect for them.
WALTER
The old curmudgeon who says whatever we're afraid to say because he just doesn't care anymore. Whether it's a top ranking corporate executive, a statesman or a Hollywood celebrity, Walter has told them all to "Shut the hell up!", and they all keep coming back for more.
JOSE
José Jalapeño on a Stick came to the United States by stick. José knew that hope lay just beyond the U.S.- Mexico border, so he began to hop north. That's right … he was hopping for hope. And José hopped the border into the U.S., only to find out his parents were born in Los Angeles, but gave birth to him while vacationing in Mexico. He was totally legal. José is a calming force among the suitcase gang, maybe because he's always tired. José Jalapeño on a Stick is a talking Jalapeño … ON A STEEK!
BUBBA J
Bubba J likes to say that he has two loves: his country, his beer, and NASCAR. Okay, so he can't count, but Bubba J is very proud of his redneck heritage. He smiles at the thought that he'll always be his momma's precious "little accident." He's a good ol' boy who grew up in a trailer park in the famous "tornado alley" of the South, and currently, he's between jobs. If all goes according to his plan, he'll stay that way.