---
PLATINUM ENTERTAINMENT GROUP AND CONCERT CRAVE ARE EXCITED TO ANNOUNCE THAT NLE CHOPPA IS COMING TO THE CROSS INSURANCE CENTER IN BANGOR ON SATURDAY, SEPTEMBER 30TH! DON'T MISS THE OPENERS FOR NLE CHOPPA, J.I THE PRINCE OF N.Y AND C-DOT 416!
Tickets for this and other shows at the Cross Insurance Center can be purchased online at ticketmaster.com or at the Maine Credit Unions Box Office inside the Cross Insurance Center.
Parking Lot Map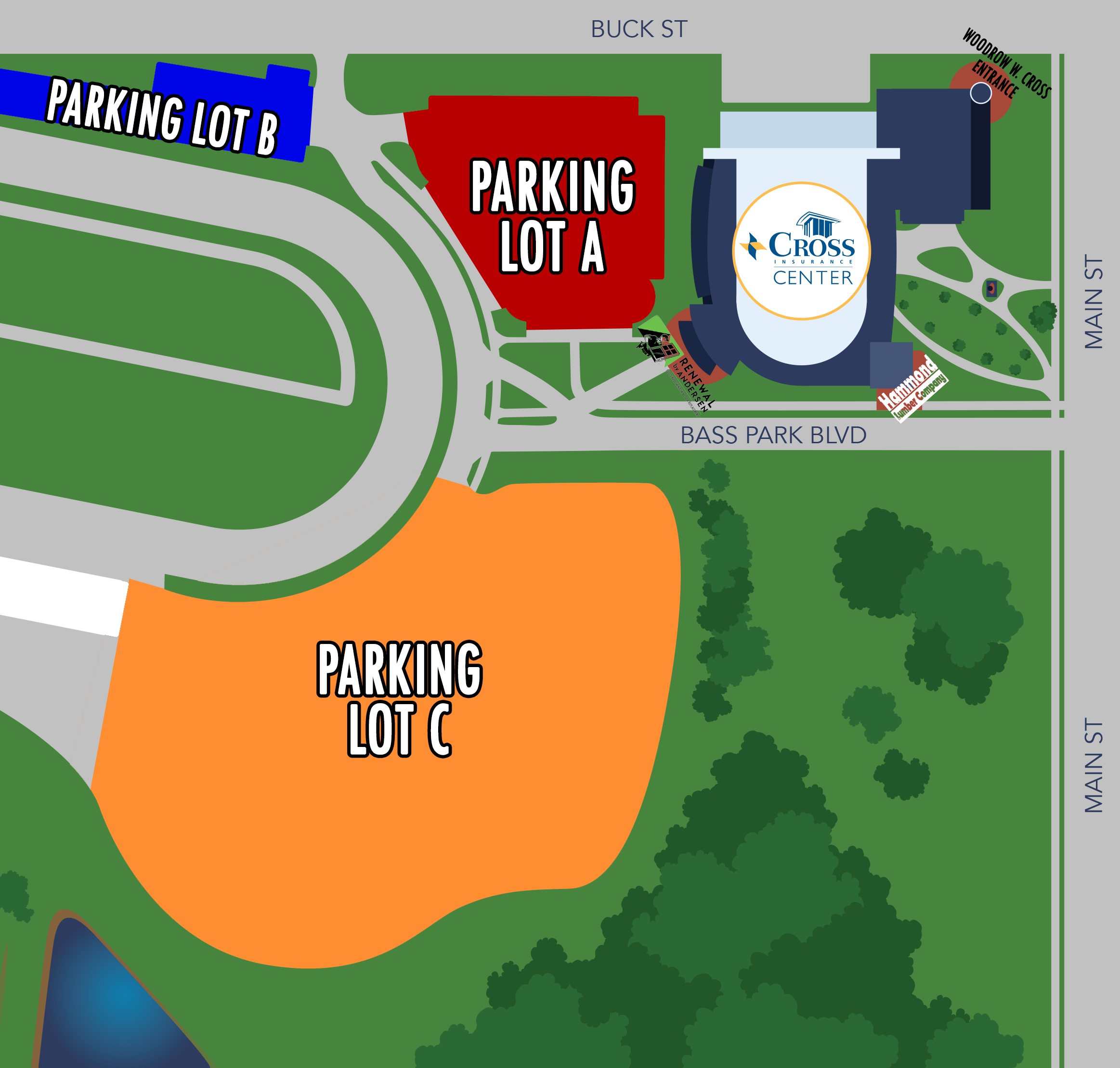 PENTGROUP VIP PACKAGE
Platinum Entertainment Group is excited to offer the PENTGROUP VIP Package. This package includes early entry to the venue, a PENTGROUP beanie, and a GA Floor ticket to the concert.
EARLY ENTRY PASS
We are offering a $20.00 Early Entry Pass while supplies last. Skip the line and get into the venue 30 minutes before general doors. Each ticket holder must also hold a show ticket to enter.
IMPORTANT TICKET INFORMATION
PLEASE NOTE: THERE ARE TWO (2) TICKET OPTIONS FOR THIS SHOW:
1) GENERAL ADMISSION FLOOR
2) CONCOURSE LEVEL RESERVED SEATING
PRICING:
PENTGROUP VIP – $68.50
PENTGROUP VIP PACKAGE Includes entry 30 minutes early, Pentgroup beanie, and a GA Floor ticket to the concert.
GA Floor* – $48.50
Bowl – $36.50
*GA Floor is standing room only
*Additional fees applicable depending on point of ticket purchase.
SEATING CHART: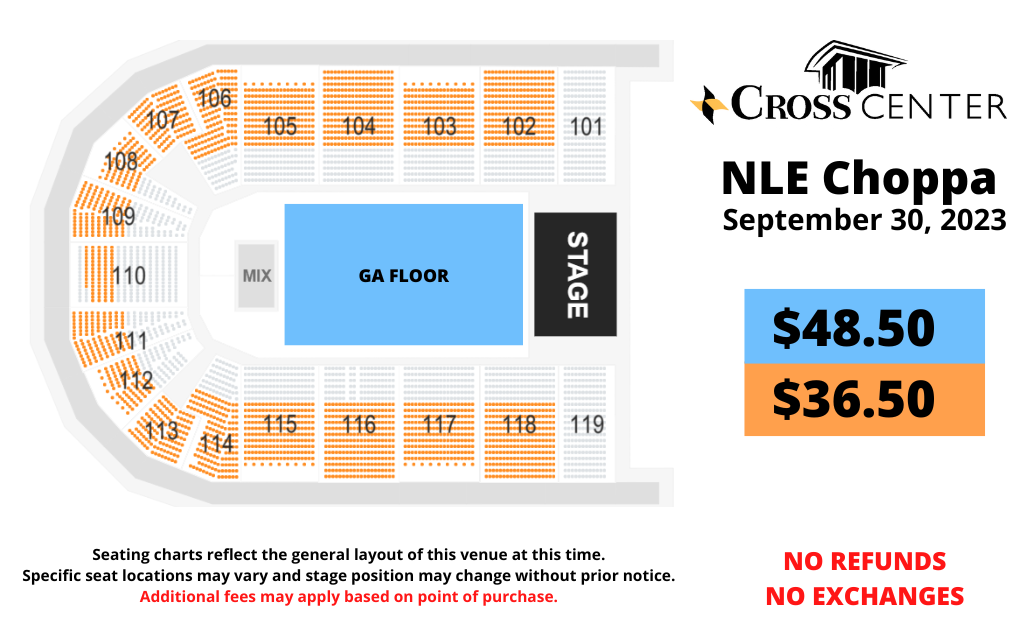 ABOUT NLE CHOPPA
Memphis rapper NLE Choppa rose to fame almost overnight on the back of a viral hit and a charismatic social media presence. At just 16, he was fielding record deal offers from major labels, sometimes with advances in the millions. Ever the entrepreneur, NLE Choppa turned down the contracts, opting instead for a distribution deal that allowed him to keep the rights to his music. Eventually, he succumbed to the temptation to work with the majors, cutting a deal with Warner Records for his 2020 debut studio album, Top Shotta. His first mixtape, From Dark to Light, arrived the same year, and 2022 mixtape Me vs. Me bridged the gap between his debut and 2023 follow-up studio album Cottonwood 2.
NLE Choppa was born Bryson Potts in 2002. Raised in a rough part of Memphis, Potts focused on basketball when growing up but began freestyling with friends at age 14. The following year, he decided to take his music to the next level, entering the studio and putting down raps inspired by Southern rappers like NBA Youngboy, Meek Mill, and Lil Wayne. He first went under the name YNR Choppa and released several tracks under that moniker. He soon switched over to using the name NLE Choppa, the NLE standing for his brand "No Love Entertainment." Along with other teenage rapper friends, he posted several videos, some gaining traction regionally. It was his January 2019 single, "Shotta Flow," that broke through worldwide, with an exciting and boisterous video accumulating tens of millions of views in a matter of months.
From there, major-label interest began, but Choppa turned all offers down, keeping ownership of his songs. He spent most of 2019 releasing new singles, including installments like "I Don't Need No Help," "Shotta Flow 2," "Shotta Flow 3," and "Camelot." These culminated in his debut EP, Cottonwood, which arrived in November that year. In August 2020, now locked into a deal with Warner, NLE Choppa released his first proper studio album, Top Shotta. The record featured guest spots from Mulatto, Lil Baby, Roddy Ricch, and Chief Keef and immediately broke into Billboard charts. Just months later, he released his next project, From Dark to Light. The mixtape included material recorded prior to the release of Top Shotta as well as songs recorded weeks before the album's release. The newer material focused on newfound themes of spirituality and enlightenment, shifting gears considerably from the violence and struggle of previous albums. From Dark to Light featured cameos from Big Sean and Ink and debuted in Billboard's Top 200 charts at number 115. The following year he teamed up the R&B vocalist Jhonni Blaze for the single "Toxic" and Polo G for "Jumpin'," and in early 2022 he released the Moneybagg Yo collaboration "Too Hot." The latter two tracks were included on his second mixtape, 2022's Me vs. Me, which also made it to the higher reaches of the charts and peaked at number 14. In April of 2022, NLE began releasing songs in advance of his sophomore studio album Cottonwood 2. The slow drip of singles included tracks like "In the U.K.," "Champions," and the Lil Wayne-featuring "Ain't Gonna Answer," and built anticipation for the upcoming record by lasting close to a year. Cottonwood 2 was released in April of 2023, and its cover art featured the rapper seated on top of his car in his neighborhood stomping grounds, surrounded by plaques for all of his gold and platinum records.
[Taken from AllMusic.com]