We know these are tough times and people are having a hard time adjusting with increased free-time. We at the Cross Insurance Center wanted to provide some content for you to enjoy during this down-time and get you ready for when we can get back to our new normal. Watch some videos, enjoy some music, and let us know what else you want to see in the future!
BANGOR STATE FAIR
It's getting closer to the Summer and that means it's time to start thinking about the Bangor State Fair!
While you're stuck at home now, check out some of the virtual reality videos that can make you feel like you're already at the fairgrounds!
VIRTUAL ROLLERCOASTER
VIRTUAL ZIPPER
HARLEM GLOBETROTTERS
The Harlem Globetrotters have been doing some amazing things with Distance Learning and helping children learn via their videos! Check out all of their installments on their Facebook page as well!
#GLOBETROTTERSATHOME : GEOGRAPHY
GLOBETROTTER SURPRISE TALENT SHOW
BANGOR COMIC & TOY CON
We were looking forward the Bangor Comic & Toy Con in the arena of the venue, but now we're excited to kick off another year of the con in October!
The guys behind the con are not just taking time off as they get ready for the new dates, they're also hosting a series of podcasts call "Don't Cross The Streams". Check out the episodes and get ready for the new dates in the fall!
EPISODE ONE
EPISODE TWO
GABRIEL "FLUFFY" IGLESIAS
Need a good laugh?!? Check out this throwback video of comedy from the legendary Gabriel "Fluffy" Iglesias. Don't forget, the show scheduled from March is now happening in November and your tickets will be valid for the show!
CIC ARTIST ARCHIVES
Enjoy some music from all the musicians and shows we've had at the CIC since opening in 2013. We compiled some tracks from all the bands and comedians who have performed (and a we who will be set in the future!). Enjoy!
COLORING PAGES
Love to color inside or outside the lines? Well try your hand at coloring some of these pages and send us your drawings to our Facebook page!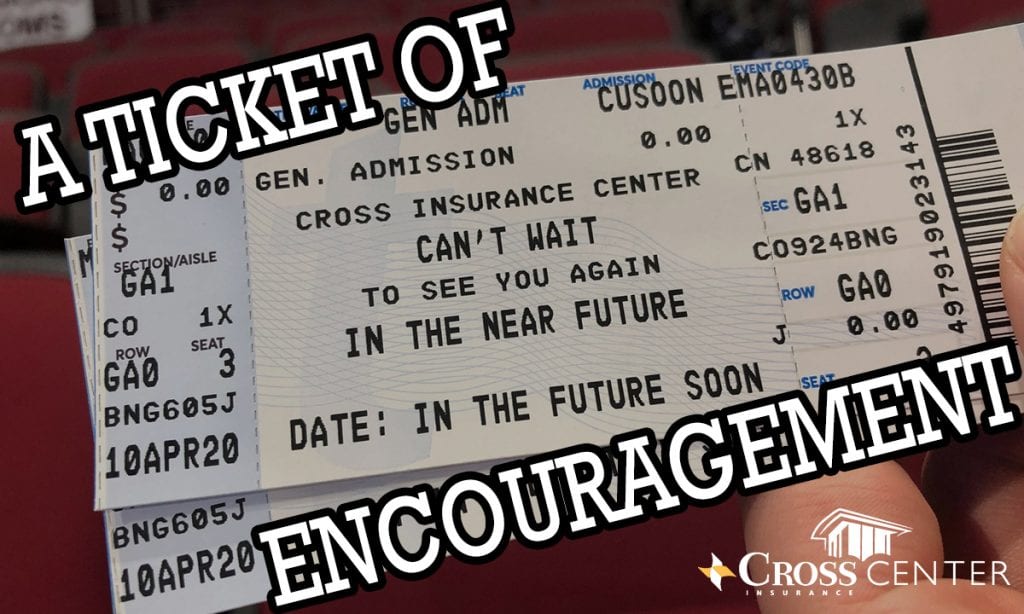 CREATE YOUR OWN TICKET
We can't wait to see you again and spend hours enjoying sports, music, and special moments. During this time we wanted to give you the chance to provide a message of hope, encouragement, or even just the what you're looking forward to the most at the Cross Insurance Center when we get to our new normal.
Click the link, fill out the form, and maybe your message will become a ticket.
CIC ZOOM BACKGROUNDS
Looking to spice up your next Zoom meeting? Try one of these Cross Insurance Center backgrounds and impress everyone in your meeting! Have an idea for a background, let us know what you'd like to see!