Due to REDUCED levels (Medium or Low) of COVID-19 community transmission in Penobscot County, face coverings are welcome, but NO LONGER REQUIRED while inside the Cross Insurance Center. At this time, we are not requiring proof of vaccination or proof of a negative COVID test. We reserve the right to do Temperature Checks and/or not grant access to any guest(s) that are demonstrating COVID-like symptoms.
For updates on this, please continue to check our website, our social media channels, or call 207-561-8300. Thank you for your understanding & cooperation. Please get vaccinated and let's keep Mainers safe!
---
90's FANS UNITE!
Hollywood Casino Presents Everclear with special guests Lit and the Tyler Healy Band at the Cross Insurance Center! Join us for a night of 90's nostalgia on August 25th.
Door Time:
GA Floor doors will open at 6:30 PM (Southwest Entrance)
General doors will open at 6:30 PM (Southwest Entrance)
*Door times subject to change without notice
Lot A:
$10.00 – can be purchased in advance or day of as available (cash only day of)
Tickets for this and other shows at the Cross Insurance Center can be purchased online at ticketmaster.com or at the Maine Credit Unions Box Office inside the Cross Insurance Center.
Parking Lot Map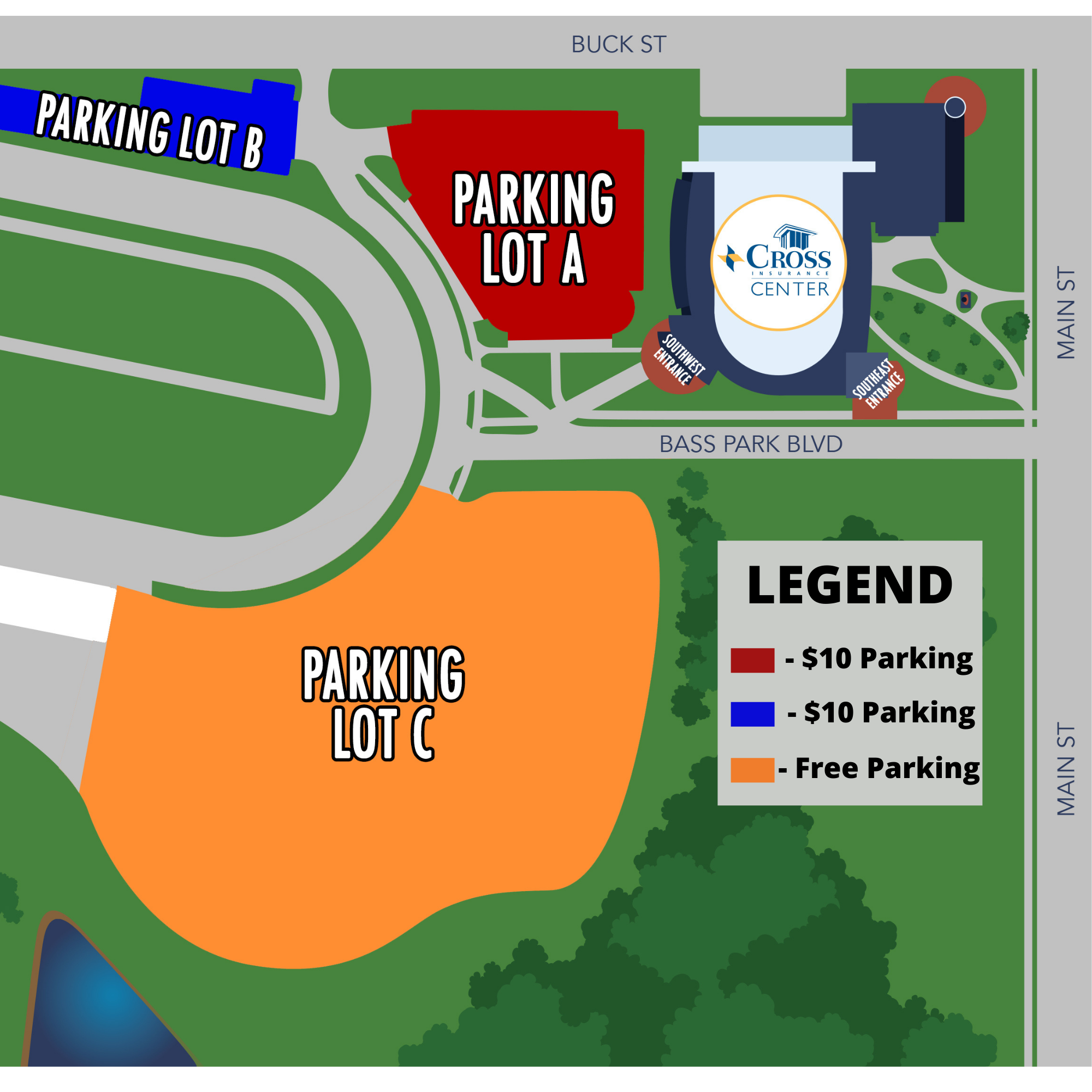 PRICING:
Price Level 1: $55
Price Level 2: $50
Price Level 3: $40
*Additional fees applicable depending on point of ticket purchase.
SEATING CHART: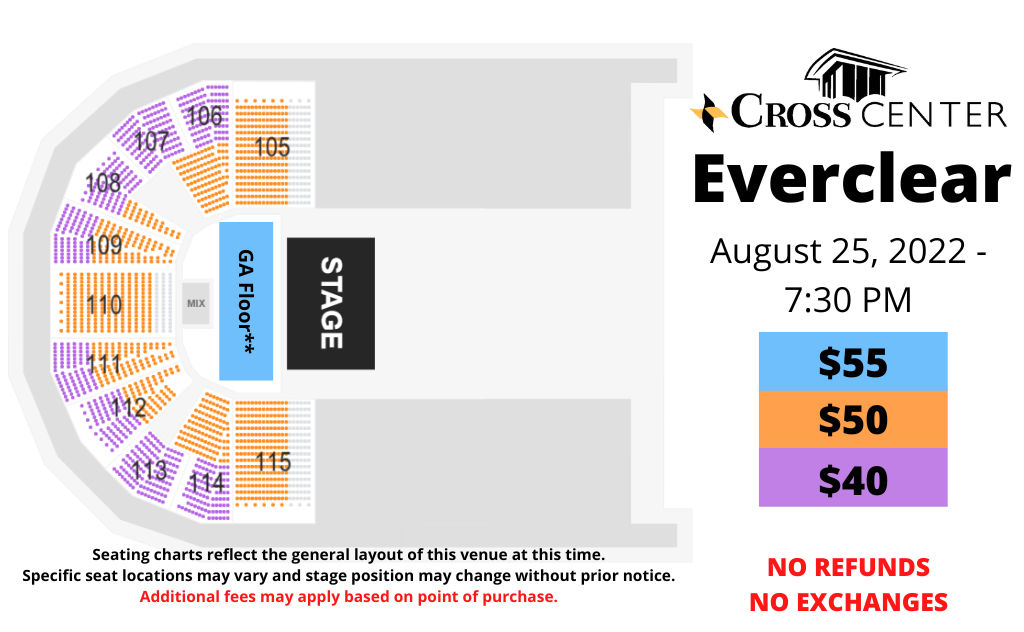 ABOUT EVERCLEAR
Considering Everclear has written and recorded some truly iconic '90s alt-rock hits, it would be all too easy these days for the band to be a victim of its past successes, relegated to performing as a glorified jukebox, existing to satisfy the nostalgic cravings of Gen Xers everywhere. But singer-guitarist Art Alexakis isn't about to start phoning it in now.
Everclear continues to tour extensively, and while it's a virtual surety that no Everclear gig is complete without a rendition of "Santa Monica" and "Father of Mine," lately the band has found that exploring the full range of past material—especially the "deep cuts"—not only gives fans a rare treat, it also injects new life into the band's live dynamic.
"By mixing it up and digging into the catalogue, it still makes it fun and relevant for us, and I think for the fans as well," says Alexakis. "It's still important to play the hits, but by playing those other songs as well, it makes it all seem more vibrant and real. Even though I recorded some of those songs 20 years ago, I haven't played them ina long time, so it's like reinventing the wheel. I'm having more fun now than I have in years. I think all of us are."
Formed by Alexakis in 1991 in Portland, Oregon, Everclear has enjoyed a lengthy career spanning 11 studio releases, numerous videos, thousands of shows and accolades that include a 1998 Grammy nomination. Like a true survivor, Alexakis has soldiered on through multiple lineup changes over the years: During the "classic" era, the band also included Craig Montoya on Bass and Greg Eklund on drums; the current touring lineup features longtime members Davey French (guitar) and Freddy Herrera (bass), as well as drummer Brian Nolan (also with American Hi-Fi), who has performed with Everclear on multiple past tours.
ABOUT LIT
Just as the nineties dissolved into the 21st century, Lit charged up rock 'n' roll with uncompromising punk energy and a power pop punch. However, the Orange County-born band left an imprint on popular culture that only fissured wider over the years like a California fault line. Who could forget the immortal lyric, "Can we forget about the things I said when I was drunk?" or the time Pamela Anderson devoured the band whole in the "Miserable" music video?
The group outlasted the next two decades as well. They stood out as the rare act whose presence could be felt loud and clear at Woodstock '99. Twenty years after its initial release, the Billboard Music Award-winning "My Own Worst Enemy" not only went double-platinum, but Post Malone also covered it on Instagram Live as did Kelly Clarkson and Jimmy Fallon on his late night show. Further speaking to their enduring influence, they've inspired think pieces by everyone from American Songwriter to Kerrang! , while Consequence of Sound named them one of the "100 Best Pop Punk Bands." Not to mention, their music blared through American Reunion, Central Intelligence, Parks and Recreation, Rock Band, and beyond as they also impressively averaged over 2.2 million monthly listeners on Spotify. The guys have amassed a catalog highlighted by fan favorites such as the platinum A Place in the Sun [1999], Atomic [2001], and Lit [2004].
In 2021, the quartet—brothers Ajay [vocals] and Jeremy Popoff [guitar], Kevin Baldes [bass], and Taylor Carroll [drums]—continue to do what they do best on their seventh full-length album (releasing in 2022) and debut for Round Hill Records.
"When we started firing up to write the new Lit material, we wanted to try and get our heads in that space we had landed in during the late 90s and early 2000s.We not only got back to our old school roots, but also found a good marriage between the classic sound of 1999 with a modern production vibe. "Yeah Yeah Yeah" is our first release for this batch of new, yet classic, Lit!" smiles Ajay
Throughout 2020, Lit set the stage for their next chapter. By the time the Global Pandemic hit, the Popoff brothers had both traded Sunny Southern California for Music City, even hitching ride on Jamey Johnson's tour bus to Nashville. They hit the studio with cowriters and co-producers Carlo Colasacco and Eric Paquette, re-energizing and reinvigorating their sound.
"Those two had a big role in relighting the Lit torch," says Kevin. "Our drummer Taylor is a monster too, and a big part of the energy of this record. "
"They're all younger dudes that grew up big Lit fans," Jeremy goes on. "So, as we inspired them along the way, they inspired us with their modern and fresh approach to making music. We stripped it back down to the basics, and they gave us a new school energy actually inspired by what we're known for. We focused on what Lit means to people, what it means to us, and embraced who we are. Even though we're older and wiser now, we still love the same things we've always loved. Right out of the gate, we said, 'We're not talking about viruses, politics, or any of that shit'. We still want to have a great time, party, and make music that sounds better loud."
As such, they rekindle this spirit with a fresh flame with their lead-off single, "Yeah Yeah Yeah." The song is a throwback to their earlier sound and the perfect jumping off point to this new chapter for the band. Once again, they couple snappy riffs with quotable and clever lyrics just as infectious and incisive as every hard-hitting hook. On a salvo of new material, the guys still pack an undeniable wallop.
With more music and touring on the horizon, Lit launch into another decade with the same heart.
"We're just relentless," Kevin leaves off. "It took us ten years to get from being little kids in the garage to our first major deal. We never gave up. We don't do it for money. We don't do it for fame. We just love being in a rock 'n' roll band, writing songs, and bringing them to life on stage."
"We've taken everyone on a hell of a ride," concludes Ajay. "Our fans have allowed us to follow whatever path we've chosen. Now, we really want them to feel like we delivered on this batch of songs."
"When you're listening to Lit, I hope you get to escape from the world for a little bit," Jeremy states. "We hope you feel like, 'Damn. In the middle of the shit storm that was 2020 and 2021, these guys managed to dial it back to a more innocent time'."