Due to REDUCED levels (Medium or Low) of COVID-19 community transmission in Penobscot County, face coverings are welcome, but NO LONGER REQUIRED while inside the Cross Insurance Center. At this time, we are not requiring proof of vaccination or proof of a negative COVID test. We reserve the right to do Temperature Checks and/or not grant access to any guest(s) that are demonstrating COVID-like symptoms.
For updates on this, please continue to check our website, our social media channels, or call 207-561-8300. Thank you for your understanding & cooperation. Please get vaccinated and let's keep Mainers safe!
---
CORTEO, the most enchanting arena production from Cirque du Soleil, is back in North America and kicking off its tour in Bangor, ME, set to charm audiences for the very first time. Bangor is the first stop on the North American tour which will hit multiple cities in the U.S. and Canada. This unique production, directed by Daniele Finzi Pasca, first premiered in Montreal under the Big Top in April 2005. Since its creation, the show has amazed over 10 million spectators, in 20 countries, on 4 continents. CORTEO will be presented at the Cross Insurance Center for 4 shows only from December 9th to 11th, 2022.
---
Door Times:
General doors will open 60 minutes before each show.
Friday: 6:30pm / Saturday: 2:30pm / Saturday: 6:30pm / Sunday: 12:00pm
*Door times subject to change without notice
Lot A:
Lot B:
$20.00 – can be purchased in advance or day of as available (cash only day of)
$20.00 – can be purchased in advance or day of as available (cash only day of)
Venue presale starts on July 11th at 10:00am and ends at 9:59am on July 18th (ONLINE ONLY). Tickets go on sale to the general public at 10:00am on July 18th (Monday). Tickets for this and other shows at the Cross Insurance Center can be purchased online at ticketmaster.com or at the Maine Credit Unions Box Office inside the Cross Insurance Center.
Groups of 10+ Save Up To $20 Per Ticket
Book a group of 10 or more people and save up to $20 per ticket. Contact Sam Spargo at Sam.Spargo@Oakviewgroup.com to purchase group tickets or for more information.
More information about group sales for Cirque du Soleil – Corteo can be found HERE.
Dinner and a Show Package
Beat the lines and enjoy a meal before seeing Cirque du Soleil – Corteo. The Cross Insurance Center is opening up their doors early for those who wish to add-on a sit-down lunch or dinner before the show. Dinner and lunch packages include a meal and one free drink ticket. Don't forget to purchase a show ticket with your add-on meal ticket to enjoy the show!
Lunch – $25.00
Dinner – $30.00
*Please notify us of any special dietary needs as soon as tickets are purchased. 
*Additional fees applicable depending on point of ticket purchase.
Parking Lot Map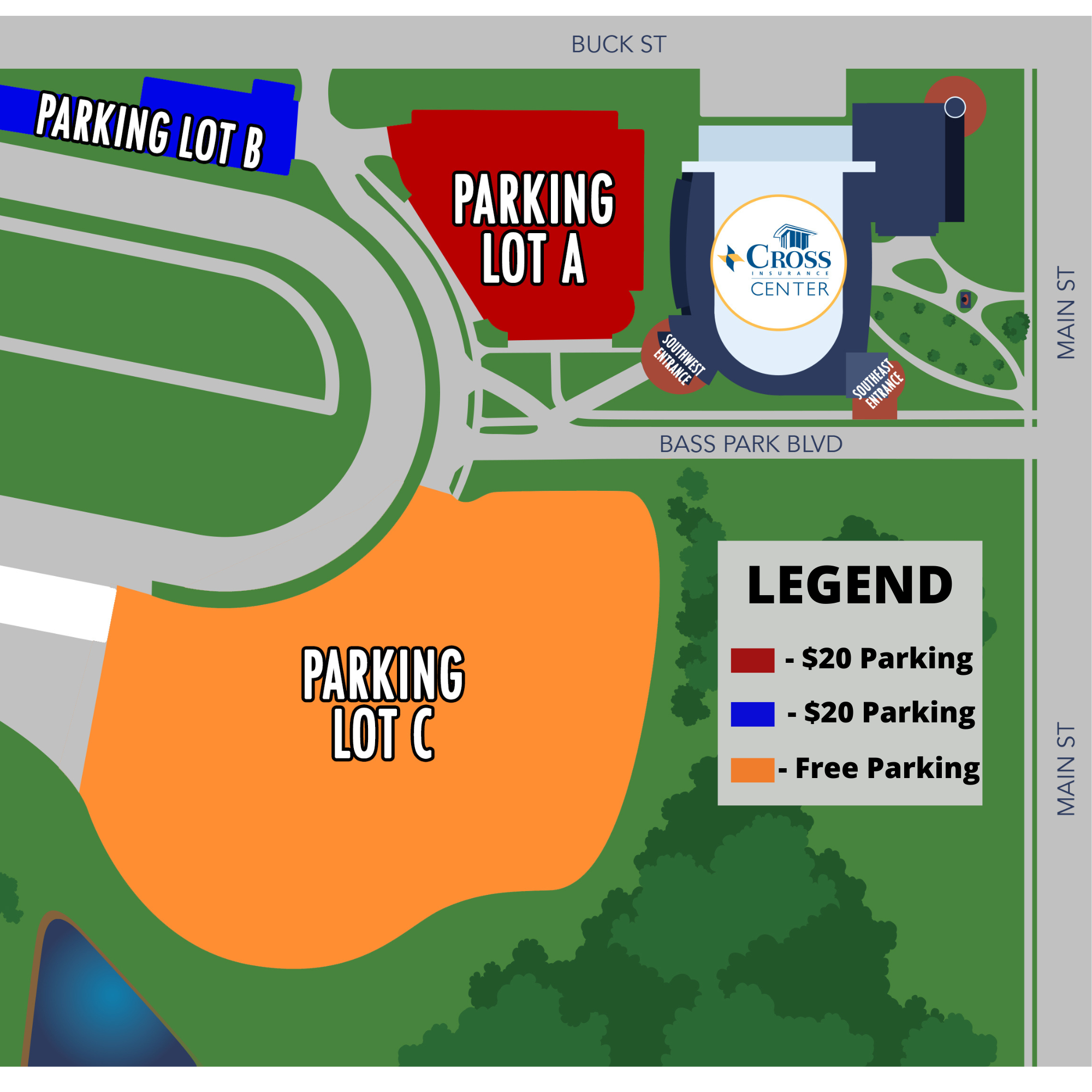 PRICING:
Price Level 1: $153
Price Level 2: $133
Price Level 3: $113
Price Level 4: $99
Price Level 5: $83
Price Level 6: $63
Price Level 7: $53
Children's tickets are for ages 2-12.
*Additional fees applicable depending on point of ticket purchase.
SEATING CHART: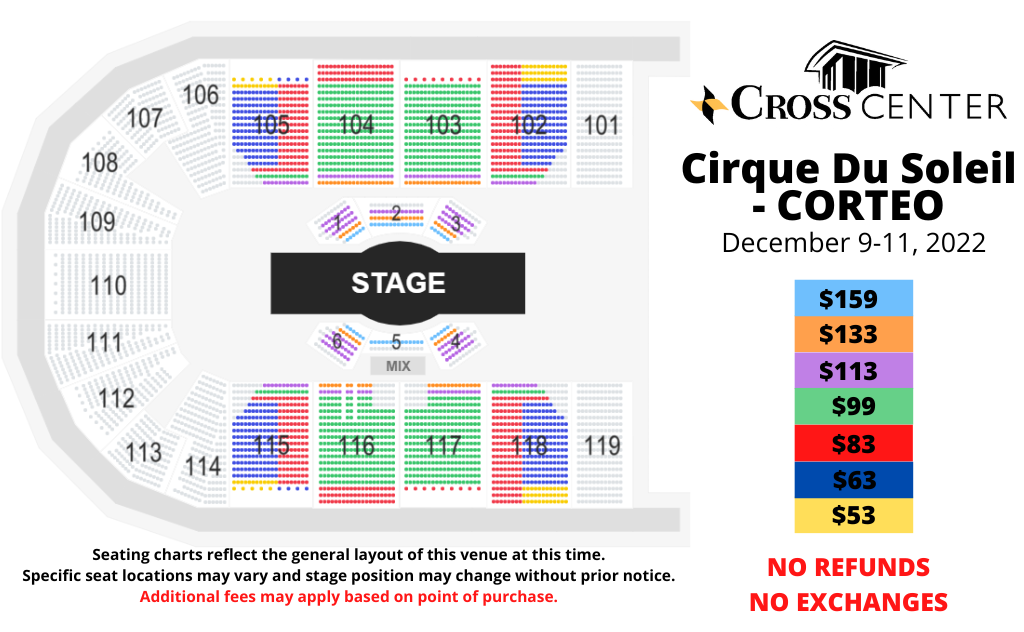 ABOUT THE SHOW
Corteo, which means cortege in Italian, is a joyous procession, a festive parade imagined by a clown. The show brings together the passion of the actor with the grace and power of the acrobat to plunge the audience into a theatrical world of fun, comedy and spontaneity situated in a mysterious space between heaven and earth.
The clown pictures his own funeral taking place in a carnival atmosphere, watched over by quietly caring angels. Juxtaposing the large with the small, the ridiculous with the tragic and the magic of perfection with the charm of imperfection, the show highlights the strength and fragility of the clown, as well as his wisdom and kindness, to illustrate the portion of humanity that is within each of us. The music turns lyrical and playful carrying Corteo through a timeless celebration in which illusion teases reality.
In a Cirque du Soleil first, the stage is central in the arena and divides the venue, with each half of the audience facing the other half, giving a unique perspective not only of the show, but also a performer's eye view of the audience. An atmosphere like never seen before in Cirque du Soleil arena shows. The set curtains, inspired by the Eiffel Tower, and the central curtains, which were hand painted, give a grandiose feel to the stage. This sets the tone for the poetry of Corteo.